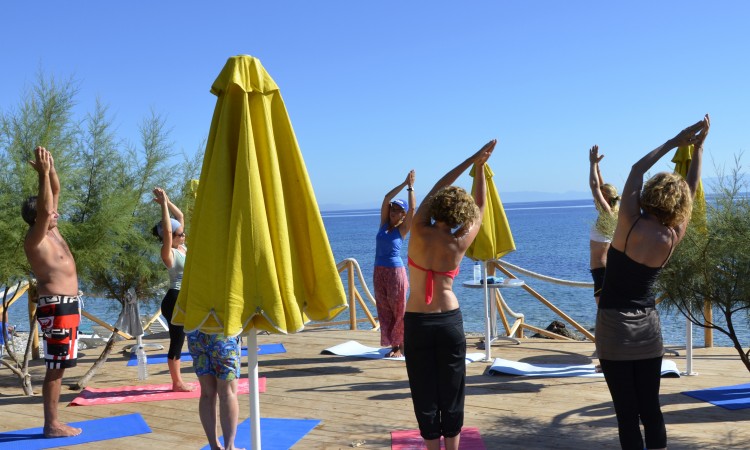 Yoga and Qi Gong
YOGA
The yoga of MArjaaNi is based on the traditional hatha yoga. Hatha yoga consists mainly of non-moving exercises with great attention to breathing.
The word yoga comes from the Sanskrit and means 'union' or 'bringing together'. Yoga originated in India more than 4,000 years ago. It was a way to achieve a deeper state of meditation.
The core of yoga nowadays is that the unity of body and spirit is found in a combination of breathing, physical exercise and concentration.
The exercises (Asanas) give strength and energy and provide an overall pleasant feeling of relaxation.
Day, location and time
Surf & Bike Centre, Kokkari
Monday, Thursday and Saturday from 9:00 till 10:00 a.m. (in 2020: from the 18th of June till the 14th of Septembre)   In deliberation, it is also possible to follow a yoga class on another location, time or day.
Please take with you: comfortable clothing, water and a towel.
N.B.: The classes are based on donation. Your voluntary contribution is very much appreciated.
QI GONG
The Qi Gong of MArjaaNi is based on the Taoist Yin Yang philosophy and works with the universal life energy Qi.
By means of slow, relaxed and conscious movements the capacity for internal harmony and balance is realized. Your body is gently and thoroughly practiced, your emotions are calmed down and your mind is brought back in a peaceful state of wholeness.
As a result, the Qi flows powerful and unhindered through the body.
This summer  MArjaaNi gives classes on demand in this moving form of meditation.
HIKING
Besides this MArjaaNi offers every week a hike, during the summer months (from half of June till the half of September). One week it goes to the mountain village Vourliotes and the other week we climb up to the artist village Manolates. Please contact her for more information.