Mijn online shops and more
On Etsy  you can find my yogamala's, bracelets and earrings, made of olivewood beads and gemstones that belong to one of the chakra's.
In my shop on Redbubble you will find T-shirts, bags, postcards and more with designs made by me.
On the website of Patreon  you can support me financially, so I can continue my life and work on Samos. In exchange you will receive video's with Samos Impressions, yoga or qi gong exercises, meditations and a lot more.
Would you like to see more of my lessons, meditations etc., please subscribe on my  YOUTUBE-channel.
Accomodation
Iro Hotel Samos is a small-scale hotel, friendly and welcoming. It has 10 rooms that are equipped with all kinds of conveniences. From the hotel you are within 2 minutes on the beach but also in the picturesque center of Agios Konstantinos. The well-known Nightingale Valley where you can walk for hours is located just behind the hotel. It is also the perfect base for exploring the rest of the island.
Ruard lets out a number of houses on Samos. The houses are built in traditional style and are located between the Greek Islanders. One of his houses (a real wonderful one!) is for sale.
Valeondades is classified as protected village and consists of a few attractively restored houses.
Hiking
There are many wonderful hiking trails on Samos. MArjaaNi has already many years of experience as  a hiking guide.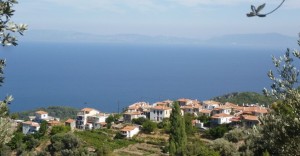 Houses for sale
Do you also have the feeling Samos is your (second) home and are you interested in buying a house here, please take a look at this page.
And more..
The pictures of yoga on this website are made by Jolanda van Bedaf-Valentijn.
In Kokkari you will find the Surf & Bike Centrum.
The logo of MArjaaNi @ Samos is designed by Dipdye Graphics.