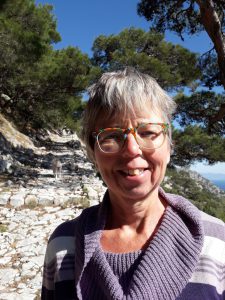 MArjaaNi is the business name of Marjan Niemeijer (1963). She graduated as a developmental psychologist at the University of Groningen (1989).
She has, among other things, given training and courses in the field of communications, safety and quality. In addition, she has worked as an accompanist, both within the intellectual disabled care and within the mental health care.
On Monday the 29th of August 2011 at 8.50 in the morning, however, changed her life. At that time during her holidays on Samos, she suddenly knew: "I do not want to go on a holiday here anymore, I just want to BE here". From that moment on she has devoted her life searching for a way to live and work on Samos.
She was introduced to coaching by email and was seized by the Mindful Analysis method. She is currently working online according to this methodology. It provides services to both personal and work-related issues.
In addition, she has found her passion in yoga, tai chi/Qi gong and mindfulness. She likes to share with others the happiness, confidence and calm that brings this to her.
Hiking in the mountains and forest on Samos gives her a feeling of unity and connection with all there is.
Stained glass and Tiffany are a hobby of her for years. The (sun-) light of Greece gives the colored glass objects an almost magical aura.
From May 2013 Marjan lives and works on Samos.
Some people wonder where the name MArjaaNi comes from. It is no more than a mix of Mindful Analysis with her first and last name. In addition it has an Oriental sound. But the fun and the energy in this video was the decisive factor.
Because even that is MArjaaNi!
My personal compass
My destination is development and growth, both for myself and others.
The goal is to inspire people to live a life that completely suits them. For this I use my personal development and growth as an example. I do this full of enthusiasm and positivity. I have faith in the inner strength of man, so that they can fulfil the change in themselves.
When I can contribute to this transformation process, by inspiring and supporting, it gives me great satisfaction.
Are you someone who:
-chooses for personal growth,
-dares to look at yourself,
-wants to be the change,
-can face (negative) thoughts and emotions, and
-is open for new roads to go on,
then I like to work together with you to explore how you can rely more on your inner power.
With that you can create:
-private choices,
-moving in freedom,
-being more relaxed in life,
-being no longer carried away by thoughts and emotions,
-being firmly in your shoes
-having more self-confidence,
-sticking more to yourself,
-a life that suits you, and
-handling better any fears.
Sign up now for a NATURE, BODY, and SOUL Week of Inspiration or a Mindful Analysis-process!